Ptex
By Neil Blevins
Created On: Apr 14th 2012
Updated On: Aug 26th 2012

Go here to read this tutorial in Russian.
A Ptex file is an image file format not that unlike a tif, jpg or exr, its main difference is it isn't a purely 2d file format, but contains 2d pixel information on a face by face basis for a 3d model. The format was created at Disney for use in their proprietary paint3d software, but the format was open sourced so that now other 3d applications will be able to take advantage of the format. For a more technical discussion of Ptex, including the original paper and usage videos, visit Disney's Ptex Site.

2D vs Ptex Workflow
When dealing with normal 2d image formats, your 3d workflow would be something like this:

Model your 3d geometry
Create UVs, which involves flattening the faces of your 3d geometry into a 2d configuration
Paint a 2d map that corresponds to your uv positions (either in a 2d paint app like photoshop or a 3d paint app like mudbox, mari, body paint, etc).

Wrap your 2d map around your 3d model using the uvs.
One of the main issues with this scheme is it takes a long time to setup good uvs for a model, especially if it has a lot of separate pieces of geometry. And it's just so darn frustrating, it seems like there should be a way to paint on your model directly without the need for a 2d intermediate. That's where the Ptex format comes into play. Here's a common Ptex workflow...

Model your 3d geometry
Setup for Ptex (usually a button click or two)
Paint on the the geometry using a 3d paint program

The paint applies directly to the 3d faces of your geometry
Advantages & Disadvantages



So there are a number of advantages of using Ptex over the normal 2d mapping method...

No more uv setup, which means a lot of saved time
No texture stretching. Setting up good uvs can be time consuming, and even the best uvs sometimes lead to faces receiving too many pixels compared to their neighbors, causing texture stretching to occur
No artifacts at shell edges. When defining uvs, the edges between uv shells frequently leads to artifacts. Not so with Ptex.
Each face can have a different resolution, so it's quite easy to add extra detail to a specific area of your model. More difficult to set this up with UVs.

There are some disadvantages though...

Some things are just easier to paint in 2d. Say you have a rectangular cloth, it makes sense to apply a weave texture to your flattened 2d uvs as opposed to trying to paint this onto the final 3d representation of your object. Some software has ways of getting past this limitation, like flattening your 3d geometry so you can still paint in 2d onto Ptex.
No photoshop support. Photoshop is the most common tool for painting textures in the industry, but it does not allow you to paint on Ptex files. As 3d paint programs like Mudbox, Mari, etc become more feature complete, the need to use Photoshop to paint will probably decrease.
Changing the geometry of the model (like adding or deleting faces or edges) requires you to bake the Ptex file from the old geometry to your new geometry with possible quality loss. This is a solvable problem, Mudbox for example has the ability to transfer ptex from one model to another. But it is an extra step you have to worry about.

Ptex files are generally associated with their corresponding object by name, so Hand01.ptx is assigned to the 3d object in your scene called Hand01. So if you rename your model, you also need to rename its corresponding Ptex file.
Again, since ptex are associated to their object by object name, if you have 200 objects that need an identical color map, its easier to do that using uvs than to create and maintain 200 identical ptex files that are named for each object.

The Ptex Format
So a Ptex file is basically a list of faces, and all the pixels (also called texels, for texture pixels) on that face. For example, here's a rock texture painted onto a 3d face...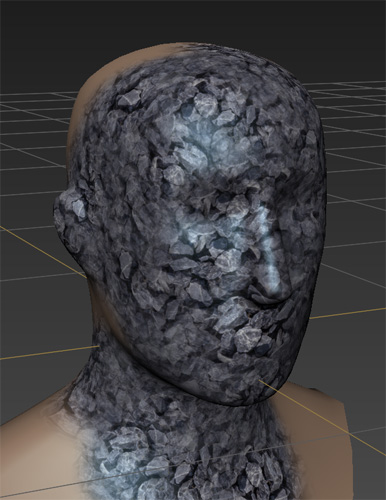 This is what that texture map may look like applied to uvs in 2d...




And this is similar to what would be contained in a Ptex file...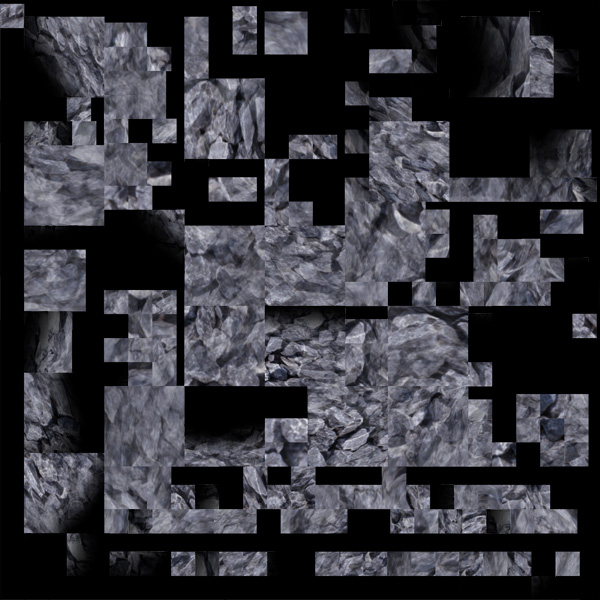 As a 2d map, this is unreadable. But the 3d software reads the Ptex file, and knows which chunk of texels are applied to which faces, and the result in 3d is the proper paint on the proper faces.



Painting And Baking



The two most common ways to use Ptex files in your workflow are as a way to store 3d paint, and as a way to bake various properties into your mesh.

Baking: Say you want to bake an ambient occlusion pass into your mesh, so that you can darken the cavities in your shader. Calculating the occlusion on a frame by frame basis may be slow, so instead, you calculate the occlusion, and then bake it into a Ptex file assigned to your object, now you have your occlusion without the need to setup uvs. This is great if you want to apply baked occlusion to say 20,000 objects in your scene without having to setup 20,000 uv sets. If your mesh changes, or you need to add more meshes to your occlusion, you can always go back and rebake, which is usually a quick process. You can also bake the displacement of your mesh into a Ptex file.

Painting: You use a 3d paint program like Mudbox or Mari and manually paint onto your mesh. This paint is saved as Ptex files. Since these are hand painted (not part of some procedural process), changing your geometry is a bigger deal. You'll need to either repaint, or else bake your paint from your old mesh to your new mesh, and then repaint any parts that have changed substantially.

Conclusion



So this may sound a little complex, but try and remember back to when you first learned about uvs. I bet the concept was a little bit difficult to visualize. It's the same with Ptex files, it's just a different way of doing the same thing. But once you understand how it works, it's actually in many ways a simpler process. And as the tech advances, hopefully most of the gotchas will slowly disappear. UVs will never go away fully, but with Ptex, hopefully we can do away with unneeded uv sets and only use uvs when necessary.



Examples



The best way to get into Ptex is to jump in and start using them, so for those of you who own mudbox 2012-2013, here's a tutorial on the Ptex workflow for mudbox: Ptex Use In Mudbox 2013.

And here's some info for people who are interested in using ptex files in mentalray for Maya.

And here's some info for people who are interested in using ptex files in vray for 3dsmax.


---
This site is ©2012 by Neil Blevins, All rights are reserved.
Back to NeilBlevins.com

---